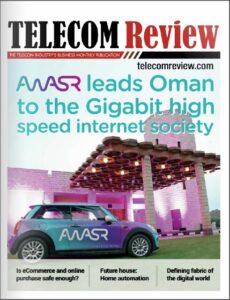 Awasr Leads Oman to the Gigabit High Speed Internet Society
Telecom Review
Awasr stands as the first specialised broadband internet provider in the Sultanate of Oman. The company offers superior customer care and is dedicated to delivering high quality broadband services to the people of Oman, with a mission to "help customers unlock the power and enjoyment of the internet." Awasr recently launched its services in regions previously untouched by high speed internet, with plans to expand to the rest of Muscat and other areas throughout the Sultanate.
Awasr is Oman's first specialised high speed fibre internet service provider. What's impressive about Awasr is that the company plans to expand its services throughout the Sultanate of Oman, which could benefit both businesses and households lacking in connectivity.
At a recent event, Awasr officially launched its services in the regions of Al Khoud, Al Mawaleh, Al Hail, Maabilah and Shatti Al Qurum in the first phase of expansion, announcing plans to cover the rest of Muscat, Oman's capital city, and other areas of the country in due time.
The announcement was made on Monday, March 21, held at Al Bustan Palace Hotel in Muscat. With the official launch of the services, Awasr customers all over Oman are now able to enjoy high speed fibre optic internet in both their offices and homes, at competitive prices in all of the regions announced.
The innovative operating company officially announced that it will soon offer a 1 gigabit connection for homes and has previously launched three Fibre-To-The-Home (FTTH) packages with 20MB, 50MB and 150MB speeds accordingly. Awasr also offers three Fibre-To-The-Business (FTTB) packages with 5MB, 10MB and 30MB internet for small, medium and large scale businesses.
His Highness Sayyid Taimur bin As'ad Al Said, chairman of Awasr, shared his enthusiasm with guests at the event: "The broadband fibre optic packages offered by Awasr aim to support the government's vision in reinforcing the Sultanate's digital infrastructure and offering high speed internet services. Our new 1 gigabit speed will drive the market to provide the high speeds needed to allow people and enterprises to become more innovative; hence, contributing to the prosperity and sustainable development of the Sultanate."
Graeme Lowther, strategy advisor at Awasr, said that the company will follow Oman Broadband Company (OBC) in providing broadband connection to homes in different areas. OBC has reportedly built fibre network in cooperation with Haya Water.
"About 70,000 homes in Muscat have already been covered. By the end of the year, OBC will release 120,000 homes. That is a big market," noted Lowther at the event. OBC is also laying optical fibre cable in other cities like Salalah. By the end of the year, 25-30 percent of Muscat will be covered by fibre optic cable of OBC.
"In two years, 90 percent of Muscat will be covered," Lowther added.
The company, which according to the Times of Oman has an "Omanization ratio of almost 100 percent", is aiming to achieve break-even by 2020. According to Lowther, the pricing of Awasr is better – it is not expensive and customers get more speed for the same price.
"The business packages in Oman are the most expensive in the GCC region," said Lowther. "The cost of communication will come down (eventually)."
Ghaith bin Mohammed Al Darmaki, chief technology officer at Awasr, said: "The launch marks a new era in the telecommunications sector, especially with providing high speed fibre optic internet services. This reflects our strategy of becoming the trusted partner that can meet the increasing demand, which is in line with the development the Sultanate is witnessing across all sectors."
Mohamad Madhoun, commercial adviser at Awasr, spoke about the company's expansion plans, which include packages targeted for small and medium enterprises and services that cater to the different needs of customers, such as media and content. He also touched upon the importance of expanding fibre optic technology to reach as many customers as possible.
Awasr is expanding, having signed several strategic partnership agreements with pioneering local, regional and international companies in the telecommunication sector to ensure the delivery of cutting-edge services and world-class technology. It signed agreements with Oman Broadband Company (OBC); Salience Consulting, he region's experts in broadband, and Singapore-based ViewQwest, a leading provider of high speed fibre optic internet services in Singapore, and Orixcom, who are specialists in internet capacity and cloud services.
Awasr now plans as well to open a flagship store at Avenues Mall in Muscat.
Following Awasr's rapid expansion announcements, Telecom Review sat with Eng. Mohamad Madhoun, commercial advisor; Ghaith Al Darmaki, chief technology officer and Graeme Lowther, strategy advisor, Awasr who spoke to us exclusively and in detail about the direction of Awasr: the company's future prospects, partnerships and challenges to face.
Awasr is growing rapidly as a company, which greatly values its simple, caring, agile and smart mentality. "Our values are very important to us," said Graeme Lowther. "They define the culture of the company and they guide us in how we operate. As a challenger to the existing telecom companies in Oman, we need to focus on our strengths. We are simple because we want to remove the complexity of getting online. We have three simple products: small, medium and large. We do one thing and we want to be the best."
"We are caring because we need to earn the respect of our customers," Lowther added. "This is a good value and it is a commercial reality. We need to genuinely care about our customers if we are to succeed. We need to be agile because we can't match the others in size, so we need to be faster in how we bring new products to market, and how we respond to our customers. We also need to be smart in everything we do. We need to continue to drive cost out of delivering broadband so we can pass this value to our customers, and we need to keep pushing the limits to deliver faster speeds and smarter services. Sticking to these values is how we will survive and then thrive."
Awasr's fibre optic network is available in areas of Muscat and is now available across other areas of the country. The company plans to expand its reach to further connect the people of Oman to premium broadband. "Part of being "smart" means that we need to work with partners," Lowther added.
"For fibre rollout we are working with Oman Broadband. It is important to recognise that Oman Broadband is a key part of the government's strategy for enabling high speed internet, and they will cover 97 percent of Muscat in the next few years. So, it makes no sense for us to build our own fibre in Muscat; in fact, if we started building fibre we would undermine the government's plan. Therefore, we are working with Oman Broadband by helping to guide their rollout. From next year, Oman Broadband will begin to release fibre networks in other parts of the country. Plans are already in place for deployments in other cities. I advise everyone to check our website where you will soon see our expansion plans, and if you are in one of the new areas, you can pre-order your Awasr connection."
In November 2015, Awasr announced a technical partnership with Singapore's ViewQwest for the launch of its broadband services. According to Lowther, ViewQwest was chosen because: "ViewQwest operates in a very similar way to Awasr. Like Awasr, they use fibre provided by the iDA, the Singaporean government's equivalent of Oman Broadband. ViewQwest has provided technical expertise and guidance so that Awasr now has the same technical systems that are used in Singapore with the same processes. ViewQwest provide excellent customer service and as a result, they have the highest average revenue per user for broadband in Singapore."
"They are also a world leader in innovation," Lowther added. "ViewQwest was the first company in the world (after Japan's NTT) to announce 1 gigabit internet connections for home users, and last month they began delivering 10 gigabit home connections. To put that in context, that is 10 times the speed of our 1 gigabit connection, and 1,000 times faster than the 100 megabit connections offered by other operators in Oman. We see ViewQwest helping to keep us at the forefront of innovation; not only with connection speeds, but also with some amazing services that we plan to release in Oman later this year," Lowther concluded.
Awasr is also partnered with other companies such as EOS Telecom and Orixcom. "One of the key strategic visions we have in Awasr is to deploy the best working practices and to deploy the latest technology in the industry from advanced markets like the UK and Singapore," said Ghaith Al Darmaki.
"These partnerships enable us faster and reliable ways to implement different strategies," he added. "Besides that and from day one, we started knowledge transfer programs between Awasr and its partners. Each of our partners brings different expertise and knowledge; EOS brings us Salience Consulting, the foremost consultancy in the GCC when it comes to broadband. And we have benefited from the expertise of partners such as Orixcom, who help create international links. We are also working closely with ViewQwest in Singapore."
Oman recently launched a National Broadband Strategy. A key element of the strategy is the government-owned Oman Broadband Company, which has announced plans to bring fibre optic connections to 90 percent of Muscat. How does this benefit Awasr?
"Awasr targets to build lean and efficient operations, and Oman Broadband Company enables us to be more efficient by utilizing the existing network OBC has," said Al Darmaki. "In addition, at Awasr we believe the government initiative is the key to progress the telecom industry in Oman, where deploying fibre is not duplicated and we focus on our area of expertise."
Talking about the difference between Business Internet 5 and Business Internet 30 offered by Awasr, Mohamad Madhoun said: "One of our values is being "simple"; that's why we have three products for residential and three for business. The difference is in speed between packages for residential and business, plus in business the packages are symmetric so the upload and download speeds are similar. All of our packages are unlimited to truly give the power to our customers to unlock the power and enjoyment of the internet."
In terms of innovative services and increasing customer satisfaction, Madhoun added: "Customer satisfaction is a core pillar in our strategy, hence, slogan 'Experience Better'. We are working on innovative ways to give more control to the customer from all aspects so that customers will be able to understand everything about our services, from applying to the service online, to having a professional customer care agent who can handle all customer queries in one call, plus how to read the bill, online ordering, upgrades and payments."
Commenting on how Awasr will cope with the increase in data usage in the future, Al Darmaki said: "At Awasr, we pursue a proactive way of monitoring customer behavior. Part of that is to analyze the customer usage and also the overall data consumption in the network. Such analysis triggers preventative actions to avoid any decrease in the internet speed or impact of the customer experience. We need to mention the simple flat architecture of our network which enables us to maintain such speed and therefore customer experience, and we will not compromise on that."
To conclude, Madhoun mentioned some of the products and services that Awasr customers can expect in the future. Awasr will continue to innovate and grow as a company: "Part of being "caring", we will always be looking at the market and our customers to get feedback and quickly adapt to customer requests and requirements which will reflect in our products and services, existing or new," said Madhoun. "We will also continue to fulfil our license obligations. Some of what we are planning to launch this year is the fastest ever speed package at 1 gbps in Oman; plus introduce VOIP services in addition to industry-focused enterprise solutions."